Is there someone in your family who wants to feel like a princess?  If you said yes, then visiting the ice castles is the way to accomplish that!  Every family photo will be spectacular against a backdrop of intricate icicle structures.  Vibrant colors, music, fountains, sled rides, tunnels, and striking ice rooms all contribute to this wonderland's magical ambiance.
What kind of castles would these be without some star entertainment?  As you may have guessed, appearances by the Enchanted Frozen Sisters can be seen that will surely brighten any princess's day.  To heat things up, fire dancers perform and dazzle you with their movements.  Taking photographs and videos of the entertainment are always encouraged and become one-of-a-kind keepsakes.
You may be wondering what to wear and bring to the ice castles.  Here are some local tips to help you out:
Dress warm and wear boots – the castles thrive in really cold temperatures and the floor is made up of crushed ice
To avoid a ticket line and higher standby ticket prices ($15-$25), buy them online for $10.95-$18.95 and keep the QR code saved on your phone (just remember that all ticket sales are non-refundable).
Monday-Thursday prices are cheaper than weekend ones. Once you choose an arrival timeslot, you can spend as much time in the castles as you want!  We recommend that you go at night to be able to see the castles vividly lit up.
If you are bringing little ones, sleds are recommended (any way more fun) over strollers because of the crushed ice floor surface.
Refreshment and souvenirs are provided in the gift shop if you get hungry and need to warm up!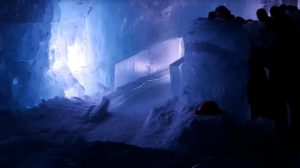 The ice castles give every family a unique way to experience winter in the White Mountains.  We consider ourselves so lucky to be just a few miles down the road from them.  There aren't many small towns that get to say that they host the stunning ice castles, which makes Lincoln such an ideal winter getaway destination.  The magnificence of the ice castles paired with cozy cabins nestled along the Pemigewasset River make for the perfect vacation.
Who's ready to stay and play with us at Riverbank this winter in the White Mountains?