Seasonal Specials & Packages
Ski & Stay Rentals
The winter ski season is upon us and boy are we ready for another great year of skiing and riding at the best mountains: Loon Mountain, Cannon Mountain, Bretton Woods, and Waterville Valley. Whether you are looking to crash for one night after a thrilling day on the slopes, planning a trip to the White Mountains for a ski and stay getaway with your family, or you desire a seasonal retreat to make your winter truly memorable, Riverbank Motel and Cabins is the perfect choice.
Daily Discounts
For the skier who visits the mountain a few times a year, we always offer discounted ski tickets to Loon Mtn. and Cannon Mtn. when you book with us.  Don't want to wait in line? The discounted tickets from us to Loon Mountain allow you to jump right on the lifts once you get there!
| | 3-Day Mid-Week Winter | 5-Day Mid-Week Winter |
| --- | --- | --- |
| Cabins | $210 | $335 |
| Standard Motel Rooms | $150 | $235 |
| Motel Rooms with Kitchenettes | $165 | $260 |
Seasonal Ski Rentals
Our seasonal rental units are priced for a 4-month duration (186 night duration's are possible and pay no tax) from December 1 through April 1.  A description and price of each unit we offer is listed below:
Cabin with 1 queen bed, private bath, gas fireplace, and kitchenette – $3,600 plus 9% tax
Cabin with 1 queen bed, 1 pull-out queen, 1 pull-out twin, private bath, gas fireplace, and kitchenette – $1,750/mo. for 6 months only, no tax
Motel room with 1 queen bed, private bath, and kitchenette – $2,900 plus 9% tax
Motel room with 2 queen beds, private bath, and kitchenette – $3,100 plus 9% tax
Adjoining motel rooms with a total of 3 queen beds, 1 twin bed, 2 private baths, 1 kitchenette in the bigger room, and refrigerator, microwave and coffee maker in the smaller room – $8,000 plus 9% tax
Pemi Cottage with 1 queen bed, 1 double bed, 1 pull-out queen, private bath, full living room, full kitchen with oven-$6,200 plus 9% tax
Give us a call today and we can fit you into the perfect package, but hurry, these units sell out fast! 1-800-633-5624
Winter Packages – Christmas Tree Packages
Make lasting Christmas memories by creating a new holiday family tradition booking a Christmas tree package with us today!
Our Christmas tree packages include:
2-Night Stay With Us*
Complimentary Welcome Gift
Local Discounts to Many Shops and Restaurants in Lincoln, NH
Horse-Drawn Wagon Ride at the Rocks Estate (Reservations to be Made in Advance)
Selecting and Cutting Down a 6′-8′ Christmas Tree
Picking Out the Perfect Holiday-Inspired Wreath
*Applicable weekends are from Nov. 17th to Dec. 16th, 2019. Mid-week Christmas tree packages are also available, but do not include the wagon ride.
Prices are as follows :
A Basic Queen room without a kitchenette for $125 ppdo (per person based on double occupancy)
A Double Queen room with a kitchenette for $145 ppdo
A Cabin with a kitchenette and gas fireplace for $170 ppdo.
Ask about our connecting units that hold up to 8 people!
Snowmobile Packages
Ready for a unique winter adventure in the White Mountains? Experience miles and miles of snowy trails giving way to incredible vistas of the Lincoln and Franconia Notch areas with our snowmobile packages. By booking with us, you get huge savings on a variety of tours from our friends at SledVentures!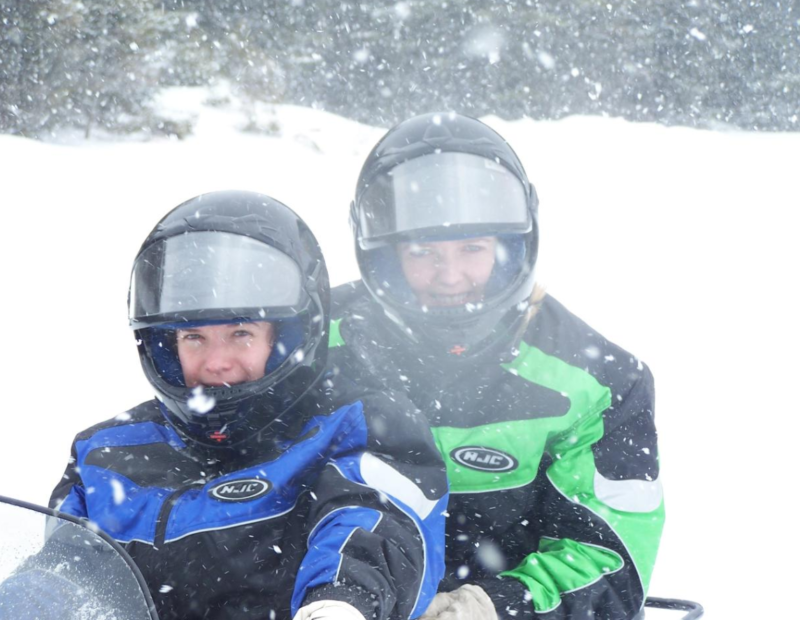 How it works:
Call or book your stay with us and note that you want our snowmobiling package on your reservation.
We will send you an email with 2 promo codes that will allow you to book up to 3 types of guided tours:
The First tracks Tour (2 hours)
Bog Pond/Franconia Notch Tour (2 hours)
Franconia Notch Over the Top Tour (3.5 hours)
Use the promo codes to book your snowmobile reservation on the SledVenture's website by clicking here.
To see just how good this deal is, we have listed the price of each tour below next to the original prices so you know how much you save booking with us:
Tour
Riverbank Single
Rider Discount
Original Single
Rider Price
Riverbank Double
Rider Discount
Original Double
Rider Price
First Tracks
$102.00
$159.65
$143.20
$195.00
Big Pond/
Franconia Notch
$128.00
$172.01
$169.20
$207.00
Franconia Notch
Over the Top
$148.60
$192.61
$189.80
$227.00
*Cancellations & modifications must be made 72 hours in advance for snowmobile tours only. Visit Riverbank's policies for room cancellations details.